During the summer months, we plan to scale back the number of update emails we send to the community. With that said, we will continue to use this resource during that time period to share important, time-sensitive information. We will also post this information on our website and our Facebook and Twitter pages.
If your child is not returning to District 97 in the fall (e.g., he/she is attending high school next year) and you no longer wish to receive these emails, you can unsubscribe via the link at the bottom of this message or by clicking here.
Jonathan Ellwanger
The Best family from Beye shared a wonderful story about Principal Ellwanger that we thought you might enjoy. You can read about it on our Facebook page by visiting http://bit.ly/2EWqspu. You can also access the piece that Chicago Tribune columnist Heidi Stevens did about the story by visiting http://bit.ly/2ZfyUYU.
Referenda Update
In April 2017, the residents of Oak Park voted to pass two referenda for District 97—one for day-to-day school operations and another for facilities. These referenda have advanced the district's vision, aided the long-term viability of our schools and fostered the ongoing success of the children we serve. They have also helped strengthen our five-year financial forecast, which, when coupled with our continued commitment to sound fiscal policies and practices, will limit the need to seek another referendum in the near future.
We have created an update for the community about the progress we have made since the passage of the referenda. You access this update by visiting http://bit.ly/2EYMeJk.
YEMBA
On Wednesday, May 22, YEMBA, Inc. held a commencement ceremony at Julian Middle School for its Mentoring Empowerment Program. During this event, approximately 100 family and community members helped recognize and honor District 97 middle school students for the growth they experienced and progress they made in areas such as academics, attendance, socialization and sportsmanship during their time in the program. Learn more >
97 in the News
The Wednesday Journal published an article last week about the work the district is doing to support and promote equity. Access the article >
Julian Ultimate Frisbee Club
The four teams representing the Julian Ultimate Frisbee Club left their competitors spinning after an incredible performance at the recent Illinois State Championships that included one of the teams capturing the school's first state title in the sport. Learn more >
June 11 Board Meeting
The next regularly scheduled District 97 Board of Education meeting will be held on Tuesday, June 11, in the boardroom of the administration building (260 Madison Street). Access the agenda and packet of materials for this meeting >
Residency Upload Days
We will be holding several sessions this summer during which families can get help scanning their proof of residency documents and submitting their online registration. The first of these sessions will be held at the administration building on Thursday, June 27, from 4:30 p.m. to 6:30 p.m. Learn more >
New Student Registration
The next summer registration event for new District 97 students will be held at the administration building on Wednesday, June 12, from 4:30 p.m. to 7 p.m. You can access additional information about these events and the new student registration process by visiting http://bit.ly/2VKQNkP.
Tweets of the Week
Check out some of the top tweets that our faculty and staff shared last week. Follow us on Twitter and Facebook; subscribe to our YouTube channel >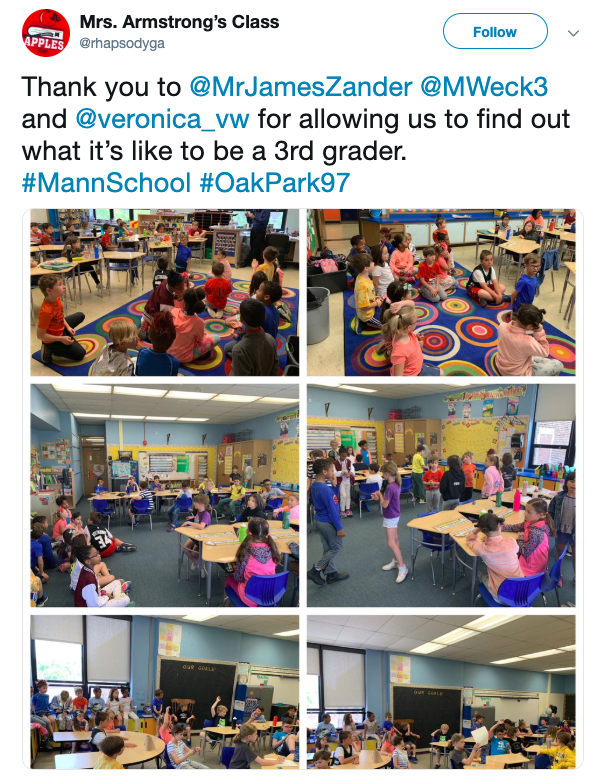 Community Flyers from the Digital Backpack
Please click here to access all of the flyers that are currently featured in the community section of the digital backpack.
Oak Park Public Library
The Oak Park Public Library has created a video about its One Book, One Oak Park program and its selection of "Palaces for the People" for this edition of the summer series. Check out the video >
Collaboration for Early Childhood
The Collaboration for Early Childhood has created a calendar that features information about sensory and special needs activities that are being offered during the month of June. Access the calendar >
Oak Park and River Forest Police Departments
The Oak Park and River Forest police departments will be holding their Junior Citizen's Police Academy Aug. 5-9. The academy is free for girls and boys ages 10 to 15. Learn more >
Free Summer Meals for Kids and Teens
The Oak Park River Forest Food Pantry will be providing free lunch and activities for children and teens (ages 18 and younger) from June 18 to Aug.16. Learn more >
Helpful Links
Below are links that feature important school and district-related information and resources.